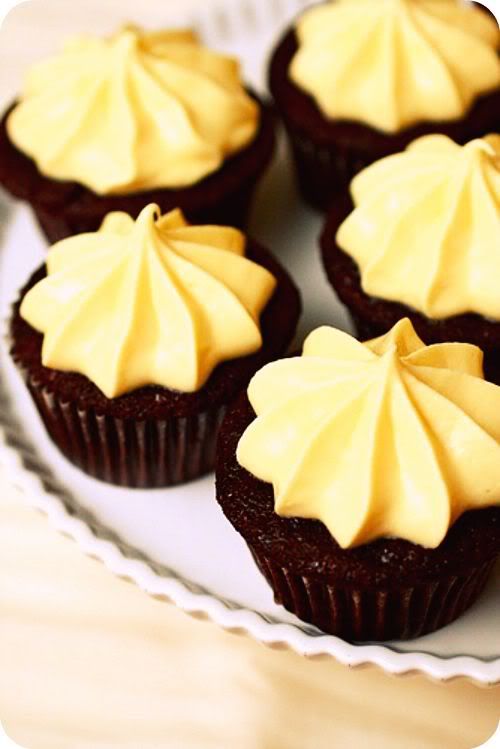 bake @ 350°, 17 min. & ta-dah! makes 24 cupcakes.
chocolate whiskey cakes
you'll need:
1 C stout beer
16 TBSP unsalted butter
¾ C unsweetened cocoa powder
2 C all-purpose flour
2 C sugar
1½ tsp baking soda
¾ tsp salt
2 lg eggs
2/3 cup sour cream
ready, set, go:
combine the stout & butter in a medium saucepan over medium heat. add the cocoa powder & whisk until smooth. remove from the heat & allow to cool slightly.
combine the flour, sugar, baking soda & salt.  beat together the eggs & sour cream to blend. add the stout-butter mixture & beat. mix in the dry ingredients on low speed just until incorporated. divide the batter evenly between the cupcake liners, filling them about 2/3 to ¾ full. bake until a toothpick inserted in the center comes out clean, about 17 mins. allow to cool in the pan for 5-10 minutes, then transfer to a wire rack to cool completely.
whiskey glaze
you'll need:
½ C water
½ C sugar
2 TBSP whiskey
ready, set, go:
combine the water & sugar in a small saucepan. heat over medium-high heat, stirring occasionally, until the mixture is warm & the sugar has dissolved.  remove from the heat and stir in the whiskey.
pierce cakes, while still in pan, with a toothpick or fork & brush with whiskey glaze mixture.
bailey's irish buttercream frosting
you'll need:
8 TBSP unsalted butter, rm. temp.
3-4 C confectioners' sugar, sifted
4-8 TBSP bailey's irish cream
ready, set, go:
place the butter in the bowl of a stand mixer fitted with the paddle attachment. beat on medium-high speed until light & fluffy, about 2-3 mins.  slowly add the powdered sugar until it is all incorporated. mix in the bailey's until smooth.  add more if necessary until the frosting has reached desired consistency.
-TIP: fill glazed cakes with a bailey's ganache!!
bailey's irish cream ganache filling
you'll need:
8 oz. bittersweet chocolate, finely chopped
2/3 C heavy cream
2 TBSP butter, at room temperature
2 tsp Bailey's Irish cream
ready, set, go:
heat heavy cream over medium heat in a sauce pan.  when the cream comes to a rolling boil remove from heat & add bittersweet chocolate. let sit for one minute & then whisk until smooth. add the butter & bailey's, stir until combined.
(source)