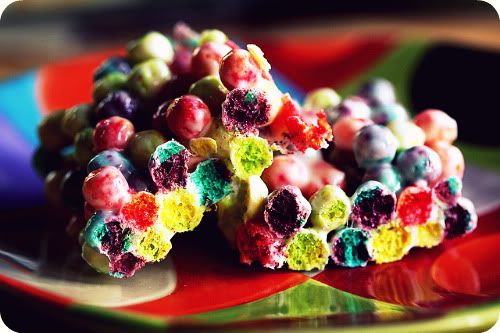 makes 12 bars.
treats
you'll need:
3 TBSP butter or margarine
4 C miniature marshmallows
6 C trix cereal
ready, set, go:
in large saucepan melt butter over low heat. Add marshmallows and stir until completely melted. remove from heat. add trix cereal. stir until well coated. using wax paper evenly press mixture into 13 x 9 x 2-in greased pan. let cool completely. cut into 2-inch squares.
cream cheese frosting
you'll need:
1 8oz pkg of cream cheese, softened (do not substitute low-fat; it just doesn't work the same way)
1/2 C unsalted butter, softened
2 tsp vanilla extract
1/4 tsp salt
4 to 6 C confectioners' sugar (depending on your desired consistency)
ready, set, go:
with an electric mixer on medium-high speed, beat cream cheese & confectioners' sugar until pale & fluffy.  add salt & peanut butter, & beat to combine. Beat in vanilla.  
in a large mixing bowl, beat the cream cheese, butter, vanilla and salt until the butter is completely incorporated into the cream cheese and it has a smooth consistency. add the confectioners' sugar cup by cup, stirring after each addition, until it has reached the desired consistency.
assembly:
using a sharp knife, cut squares in half. apply a liberal dollop of frosting to the bottom and re-apply the top half. for extra flair, apply rainbow sprinkles to the exposed frosting on the sides to really trick out your treats. serve immediately.
(source)